02 Mar

How To Cure Spring Fever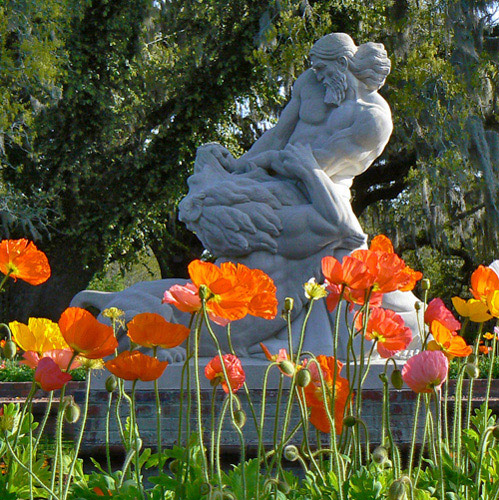 As the last bit of winter chill melts away and the temperature finally breaks above 70 degrees, spring is finally on its way! We can finally pack away the sweaters and scarves until next winter and prepare to soak up some much needed sunshine. After spending the entire winter cooped up trying to stay warm, its easy to get swept up in spring fever. For those of you suffering from spring fever, we've got the perfect cure for you.
Spring isn't the only thing blooming in Myrtle Beach. With warmer weather here to stay, Brookgreen Gardens has never looked better! The botanical gardens are coming to life under the warmth and sunshine of spring. Nothing helps cure spring fever like a beautiful day spent outside in nature. As you're exploring the depths of the gardens, make sure to check out one of the four wings of the butterfly gardens for even more horticultural delights.
If you're looking to get out on the water, the Brookgreen Gardens' offers a Creek Excursion trip where you take a trip out on a 48-foot pontoon boat along the historic rice fields. As you're cruising along, you could get the chance to see native wildlife such as waterfowl, alligators, and osprey. An interpreter will be riding along with you on your journey to help you step back in time and understand the history associated with the lowcountry area.
When you're sick, the doctor always says to feed a fever, and spring fever is no different! Waterfront dining is one of the MarshWalk's specialties. You can grab a bite to eat without having to worry about being cooped up inside when you dine at the MarshWalk in Murrells Inlet. There's no better way to enjoy a beautiful spring day than with great food and an even better view outdoors.
Satisfy a group with a diverse taste palette at Bovine's Wood Fired Specialties. This waterfront restaurant features fresh, local seafood, aged beef cooked over mesquite and charcoal, and gourmet pizzas cooked over a wood-fired brick oven. This open-air pub is a great place to dine if you're looking for a meal fresh from the sea or everyone's favorite: favorite.
There's not a bad seat in the whole place when you dine at The Claw House in the MarshWalk. Every seat features water views and there is a large climate-controlled outdoor deck. Fresh seafood goes hand in hand with living along the coast, and the Claw House does not disappoint. This New England style lobster bar house features a raw bar along with non-seafood options. Nothing says spring quite like sunshine and seafood.
Wahoo's Fish House is a "Taste of the Tidelands" award winning restaurant featuring breathtaking waterfront views of Murrells Inlet. Pull up on a chair on the outside deck while you take care of your appetite and spring fever. Wahoo's Fish House has built their menu around offering the freshest seafood, aged steak, a sushi bar, and nightly chef's specials. Wahoo's open air Tiki Bar, located adjacent to the main restaurant, can help you cool down your spring fever with frozen libations and ice cold beers.
If the warm weather has given you an extra pep in your step and you can't hold still, get out and explore! If you head up to North Myrtle Beach you can spend the day at the Heritage Shores Nature Preserve. Located on an island in the Cherry Grove marsh, this 7 acre park is perfect for fishing, kayaking, picnics, and just relaxing. With 7 acres worth of land to explore, you can breathe in all the fresh air you need as you work your way through the walking trails. If you just want to kick back and enjoy the silence, bring your fishing pole along with you and see what bites. If you want to enjoy the view and someone else's company, bring along some lunch and enjoy a picnic at one of the many photo-friendly locations.
While there are worse things to have than spring fever, that doesn't mean it should be ignored. As the weather continues to improve and the sun shines even brighter, don't forget to get outside and soak in some much needed sunshine.